Placing great tenants is necessary when you're a successful landlord. Today, we're telling you how to find a good tenant for your rental property in Cleveland. There are several steps to this process, and it all starts with advertising.
Advertising
When you want to find tenants for your rental properties, you have to advertise. In the old days, it was pretty simple. We put an ad in the local paper and the phone would start to ring. Today, no one uses the newspaper. So to draw in potential tenants, we place ads on Craigslist, and we list properties on our website – ForRentOhio.com, which has about 13,000 hits per week. We also recommend advertising on sites like Zillow if you don't have your own website. Our software is AppFolio, which sends our listings to 250 different rental websites. That will bring in tenants.
Be Responsive
When you place your ad, be ready to answer your phone. If you're not responding to the questions and the phone calls from prospective tenants, all your efforts are a waste of time. Answer the phone and set up appointments for showings. We use Show Mojo, which allows tenants to schedule an appointment right online. This saves a step, and lots of potential tenants don't want to talk to anyone. They want to go to the property and see it on their own.
Rental Price
When we're pricing properties, we start on the high side or right at market value. Then, we see what the market dictates. If our phone is ringing off the hook, we know we're right. If we don't get any phone calls or web leads, the price is probably too high. Make sure your ad has a lot of pictures and videos. People want to see the product before showing up. Then, if you're not getting leads, drop your price. The goal is to get people at your property.
Property Condition
If people are showing up, but then not applying, it's probably because the price is fine but there is something about the house they didn't like. In that case, something needs to be done to make the home more appealing. Or, you'll have to drop the price to attract renters who are willing to put up with things like outdated décor.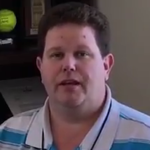 Finally, make sure you screen tenants effectively. Eliminate all the bad applications before you start choosing tenants.
If you have any questions about how to find a tenant for your rental or anything pertaining to property management in Cleveland, OH, please contact us at Sandstone Realty.